Kladdegat
Kladdegat as depicted by Jan-Erik Barendsen
Province
Gelderland
City
Hattem




Natural Habitat
Civilisation
Generations of people heard the late night howls and the clanging of chains produced by a beast known as
Kladdegat
in the
Gelderland
town of Hattem in the Veluwe. According to legend, this fearsome
hellhound
once freely roamed the streets of Hattem at night during the 19th century. Nobody dared to enter the streets after dark but one brave baker known as Jan Vischer. He managed to capture the beast, chained him up within the walls of a local castle ruin located at the Adelaarshoek, and sealed him in by masoning the walls. The dungeons of these ruins ran all under Hattem however, or so it was said. Parents warned their children not to misbehave, as they could someday be dragged into the darkness by this vicious
Child Terror
.
[1]
The haunted remains of Dikke Tinne
Edit
A 1401 trip through France inspired duke Reinald van Gulik (Reinoud IV van Gelre) to renovate his house in Hattem and turn it into a fullblown castle. He named her St. Lucia. The castle was strategically situated on the border of Overijsel (named Oversticht at the time), which had fallen in the hands of their enemy, the Bisshop from Utrecht. Despite having the biggest walls the Netherlands have ever seen, spanning a width of 7 meters, st. Lucia was the smallest castle in Gelderland. Over time this mighty fortress received the nickname Dikke Tinne (translation: Thick Castle). Escaping its prison was virtually impossible. Prisoners were locked in an iron cage which was then hoisted to the top of its towers. It is entirely possible the moans of locked up captives could be heard at midnight, instilling fear in the hearts of civilians. Perhaps that's how the legend of the Kladdegat found its origin?[2]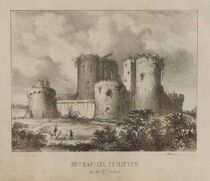 Gelre had long fought battles against the Bourgondian west of the Netherlands, but lost the war against the Habsburg Netherlands. Dikke Tinne belonged to the house of Habsburg when Hattem fought the Spaniards in the 80-year old war.[3] However, sherif Lodewijk van Montfoort commited treason by allowing Spanish soldier to take claim of the castle in 1580. Shortly thereafter it was reclaimed by the civilians of Hattem, after which the castle fell into a state of decay. Two towers of the castle were torn down in 1626 in order to build a new city wall. The castle had served its strategic purpose by 1778 so the place was broken down and many of the bricks were sold. To this day, the only leftover part of the castle is the so-called "Spookhuys" (translation: Haunted House).
In the 19th century a man named F.A. Hoever researched the castle's whereabouts and managed to put it back on the map. However, it was only until the 1980's when researchers were able to excavate the castle's exact contours and reconstruct the mapping of the castle itself. Mappings of this castle have nowadays been marked on the streets of Hattem.[4] In modern days, the so called Spookhuys is a restaurant.[5]
References
Edit
Community content is available under
CC-BY-SA
unless otherwise noted.